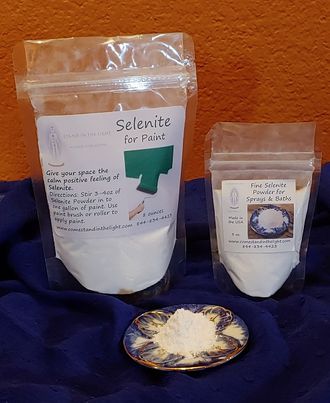 Feature of the Month: Selenite Powder for Paint and Laundry
You will immediately feel the calming soothing energy of Selenite when entering a room or gazing at a painting. Many Healers paint their treatment rooms with Selenite to enhance and deepen the healing benefits.
Add 2-3 oz. per gallon of paint, roll or brush on. You only need to use Selenite paint on the outer coat. For the artist, stir in to pallet paint or use in top coat varnish.
Use 1 t. in fabric softner cup to add the uplifting power of Selenite to your wardrobe. Use in socks to protect from constant walking on concrete draining your energy. Enjoy in bedding for a good night's sleep.
Fine Crystals, Crystal Lamps and Crystal Jewelry for your health and happiness.
What makes our crystals special?